What are internal links, and why are they important for SEO
Internal links are often one of the most overlooked element of SEO. It doesn't have the speedy results of backlinks, or the mass of visitors you get directly from content marketing, but it does have a major effect on the effectiveness on both of these strategies.
With internal linking you can have a major effect on your SEO campaign. So to help you out, here is a guide on internal linking, why it is important, how it works, and what you can do to ensure it is effective.
Why are internal links important?
Internal links are a vital element to your SEO campaigns. They have major benefits including helping Google index your website faster, improving positive user behaviour signals, and boosting the ranking pages on your website. Often they are pushed aside in favour of backlinks, however they go a long way to enhancing the reach and potential of your backlink strategy. They will make other important inner pages more discoverable by search engines. Let's go into more detail about what exactly internal links are.
What are internal links?
Internal links are hyperlinks which are purely from one page on your website to another. They often take many forms. This is different to backlinks which are links to your website from an external website.
An internal link generally takes the form of a hyperlink in text, linking to a relevant page. The text itself usually mentions either the target keywords of the page, or is used as a call to action to direct people to the page. Buttons are also another common form of internal links. It is good to have a combination of the two on a page.
How does internal linking improve SEO?
There are two major benefits to your SEO which come from internal linking. It helps set up your site architecture, and it spreads your link juice (also known as link equity).
In terms of setting up your site architecture, internal linking is invaluable. It makes it easier for Google to see and crawl all of your pages. It advises Google on the hierarchy of information and the structure of your funnel. This way Google's bots can correctly categorise and link to your website from search. As well as this, it is more user friendly, providing users with a clear, structured layout to follow to where they want to go on your website.
On the other hand, link equity is hugely beneficial to the results you can receive from your backlink building. Generally when you build backlinks for a page, all the authority of those backlinks will go to that page, and boost its rankings. This means that other pages miss out on that juice. However, with internal links you can now share that juice with other pages. The authority your page gained from that backlink can then also boost the other pages you linked to, helping them rank higher.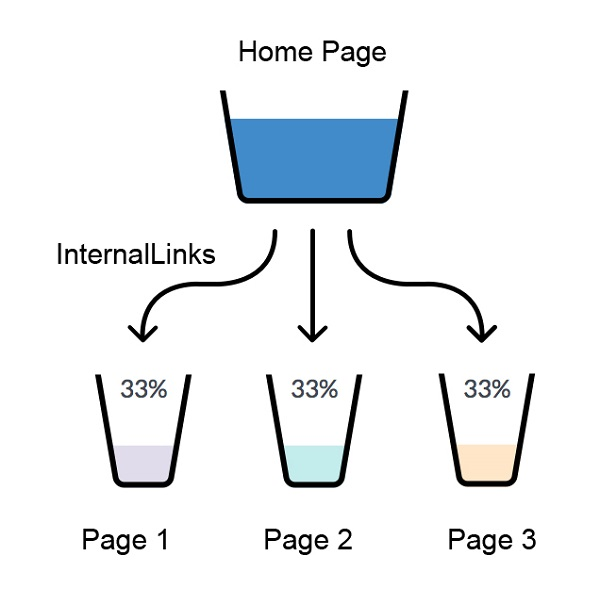 How to set up a strong internal linking structure
Now you know why internal linking is important, you are probably eager to get started. However, before you do, it is important that you do it right. To help you out, here are 4 things you should note.
1. Link to your most important pages
It is important to be strategic as to which pages your link to. Unfortunately, you can't put too many links on a page without being penalised, so think carefully as to which pages you link to. The best strategy here is to link to important inner pages. Among these are pages which you would like to rank higher, and are not actively seeking backlinks for. These pages will benefit the most from internal links.
2. Don't put too many links on a page
As mentioned earlier, Google may penalise your website if it has too many internal links. This is because it may see your website as low quality or spammy. So, to avoid this, it is recommended that you limit the number of internal links on a page to three or four. However, you can go up to 20 if the content you are writing is longer. There is no magic formula, so it will depend entirely on the amount of content to links ratio.
3. Make your links crawlable
In putting in internal links you want to make sure Google's bots can crawl the link. Start by ensuring no follow is turned off for all internal links, you want to signal to Google's bots to follow these links. As well as this Google can only follow links if they are an <a> tag with an href attribute. This is controlled in the html code, so ensure that they are correct there. If you are unsure about any of this reach out to your developer or an SEO agency for help.
4. Optimise your anchor text
The anchor text is the final important piece in the inner linking puzzle. Achor text refers to the text which you add your hyperlink to. This helps provide context for search engines and users as to where they are linking to. It also provides opportunities for keyword rankings.
So, to ensure you have the optimal anchor text you should do the following:
Use descriptive text that tells users what the link heads to.
Try to keep the anchor text to a few words or a short phrase.
Use keywords. They will help the page rank for them. However, avoid keyword stuffing.
The internal links should be contextual to the content around it to make it look natural.
Avoid extra text that doesn't help, or confuses your users. It is best to keep the link, and anchor text as natural as possible.
Conclusion
Internal linking is an often forgotten about SEO technique that is still vital today. If you follow these tips you will be able to enhance your SEO strategy, improving the results you get from it.
If you have any questions regarding internal links or need some assistance, feel free to reach out to us.