5 steps to getting started with Instagram shopping
You have probably seen Instagram making some updates to its app recently, expanding its shopping features. This is because Instagram is jumping on the massive increase in online shopping seen over the past few years. They are investing heavily in capturing a piece of this, and leveraging off their enormous userbase, to add a unique, and engaging shopping experience.
If you are an ecommerce business, this expansion of Instagram Shopping is an interesting development. It now provides you with a way to interact with your audience while they are shopping. Or a brand new way to put your products right in front of your audience, allowing them to buy there and then.
So, how exactly does Instagram shopping work?
What is Instagram shopping?
Instagram recently made a major move which cements its direction towards shopping, it added a shopping icon to the navigation menu. It replaced the notification tab on the bottom right side.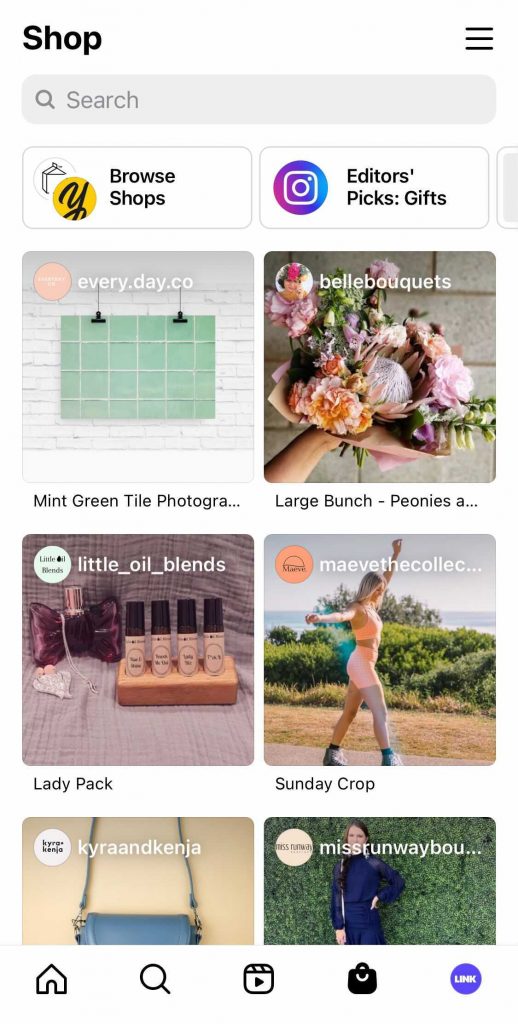 A big feature for Instagram shopping, and what makes it so unique is its integration into posts. Instagram is utilising its algorithm to deliver each user content which it believes they will like. Now when a user sees a nice necklace, or a jacket they love, as long as the poster implemented Instagram Shopping, they can click on the image and buy the items right there.
As this feature expands, Instagram's algorithm will be able to see not just the posts a user likes, but which items they purchase. This will allow them to send more accurate shopping posts and suggestions, which it knows the user will like, right to their organic feed. Utilising this feature could be very powerful for ecommerce stores, expanding their reach organically, putting them in front of customers who are more likely to buy from them.
5 steps to getting started with Instagram shopping
Step 1: Make sure you business is eligible
Before you can begin putting your products up on Instagram you need to be sure you are eligible for Instagram shopping. To determine whether you are or not, you must answer yes to the following questions.
1. Is your business located in a supported market?
Not every country world wide has access to Instagram shopping. If your business is Australian or from New Zealand you are located in a supported market. Similarly, most western countries have access to Instagram shopping, along with Japan, Korea, Hong kong, Singapore, Taiwan, Philippines, and more.
2. Does your business sell physical goods?
This is a straight forward one. If someone can physically hold the goods you sell in their hands, then the answer is yes.
3. Does your business meet Instagram's policies?
Certain types of goods cannot be sold on Instagram. This is because Facebook and Instagram have strict policies over what can and cannot be shown on the platforms. As an advertiser there are further restrictions as to what you can display. For example you cannot display certain body parts, adult type of products, gambling, tobacco, drugs, the sale of animals, etc. Before you try setting up your shop you should glance over this list.
4. Is your Instagram account a business account?
If your Instagram account isn't a business account, simply switch it over to one in the Instagram account settings.
5. Is your account connected to a Facebook page?
Facebook is deeply connected to Instagram (they own Instagram), so you will need to use a Facebook page to set up your Instagram store.
Step 2: Connect your Instagram business profile to a Facebook catalogue
Now that you have completed the previous step, it is time to build your shop on the Facebook platform. Before it can be translated over to Instagram, you need a shop on Facebook. To get started head over to facebook.com/commerce_manager and click "Create a shop."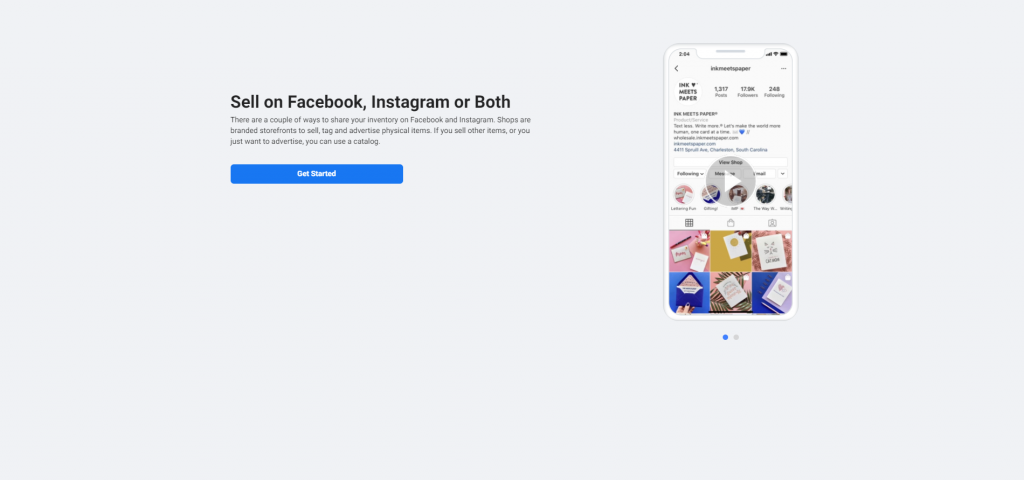 Once you are here you can begin setting up your shop. Choose whether you would like to sell your products through your site or sell directly on Instagram. This is up to you as it will depend on how your inventory and shipping are managed. You should also choose your sales channels, air products, choose your checkout methods and design your ultimate shopping experience.
It is important to note that is you want to be able to use product tags or stickers in your posts then make sure you choose an e-commerce catalogue. Once completed, go to your profile settings on the Instagram app, tap business, then tap Instagram shopping.
Step 3: Connect your store to the Instagram app
After you have tapped Instagram shopping, follow the steps to completion. When everything is all good to go, submit your account for review. After a few days the review process should be completed. You can check the status of your review at any time by going back to the shopping tab and your profile settings.
Step 4: Create shopping content on Instagram
When creating a post or story you can now tap "Tag products" to add a product directly on your post from your catalogue. There are limits to the number of products per photo, being 5 tags per photo, and up to 20 products tagged across multi-image posts.
You can also go back to your old posts and start adding shopping tags. This will allow you to capture customers who may be looking back over your old posts.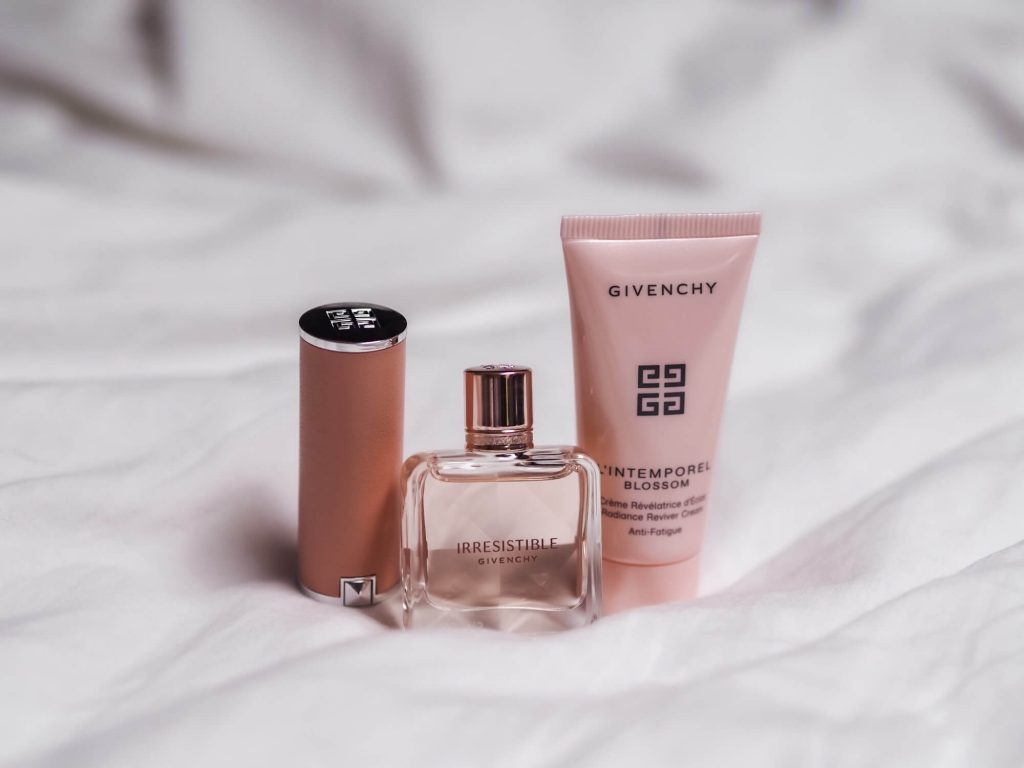 Step 5: Check out your shopping insights
Data is extremely valuable to all your marketing. Visit the insights tab and see how your shopping posts and stories are performing. This will give you insights into what content your audience enjoys and which posts have the most reach. From here you can use this as a guide to cut content which is not performing well and increase content which performs extremely well.
If you are running Ads you should be looking at your Ad manager regularly to see how your ads are performing. Use the data you see here to adjust the targeting, the spend, the content and more. Data is extremely powerful.
Conclusion
Shopping on Instagram is a major addition, showing where Instagram believes the future of its platform is heading. It is a very smart idea to be amongst the first to take advantage of this platform. It allows you to be more creative at a generally lower cost. Jump in and experiment, see what your audience likes, and what results in the most sales for your business.
If you want more assistance with taking advantage of social media marketing for your business, reach out to our team and see how we can turn your social media into a sales generating machine.